Shameless by Nina Lemay (4 Stars)
Blurb taken from Goodreads:

Girls like me don't get happy endings.

I know what I am. At worst a cliché, at best a cautionary tale. I put an international border between me and my past, only to wind up working in a low-end titty bar. Even my excuse is as lame as it gets: I'm paying for college, getting my art degree from Montreal's most prestigious school. Although some days it becomes confusing: am I just a student who moonlights as a stripper, or a stripper who masquerades as a student?

But the inevitable happens and my two lives collide. And now there's one other person who knows both the quiet, antisocial Hannah and the sensual, shameless Alicia. One person who keeps my secret.

He's beautiful, he's sophisticated. He comes from the other side of life, the one where I'm not wanted or accepted. But he calls me la petite Américaine, and his hot, hot hands on my skin promise me things I long ago gave up on.

The problem? He teaches my Classic Photography class.


It may not be the kind of book that everyone would appreciate. But I think I appreciated it for what it was. :D
HEY GUYS!! I've not reviewed for a long time, simply because I lack the time. So let me start with sharing with you guys this book.
In terms of the story,
Shameless
is actually pretty simple. In terms of plot I mean. I could predict most of what happened, but even if it is simple. I could definitely relate or maybe sympathize with Hannah. Being an art student myself (I've been reading a lot of artist type characters hahaha) I could understand her passion for painting, and how she would like to hide some of her art (because my own pieces sometimes, mostly actually show part of myself). She's also quite unconventional as a character. She isn't the kind of girl that is so full of beauty. She's skinny and quite pasty. haha, not sure, but I don't imagine her as the most beautiful girl, striking is more apt for her.
Basically you could see from the blurb that she doesn't really care about the whole stripping thing. I think this was what made me really curious. Because it made me wonder why she wasn't at all caring about it. I got to understand how Hannah's mind works, ish. Though I still don't understand it well, I can try to. Emmanuel, don't get me wrong, I don't woo over him. He's a nice guy and he is definitely charming and caring of Hannah, and I like him that way, but there's something really big missing for me to really really like him.
But the most important thing about this book is the message, I actually let out a tear or two because of this. The ending, the way everything went down. My heart just went out for Hannah, and ugh...
I can't fully describe it, because it was just... ugh. haha. But long story short, it touched my heart, and I had to say that I understood the message Nina wanted to say.
Its not the kind of book that everyone would appreciate yes. But the most important thing about this book is the message behind it, and how different Hannah is as a character. Hannah is probably one of the most awesome girls I've read. :D
* * *
ABOUT THE AUTHOR
: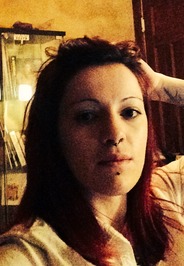 Nina Lemay
is a YA writer by day and author of sinfully twisted New Adult…well, also by day. She loves all things dark and edgy and never tires of tormenting her characters. While Nina is a fan of all things scary, Gothic, and fantastic, she doesn't shy away from a gritty contemporary romance when the muse strikes. She lives in Montreal, a city that never fails to inspire, with her partner and her dog.
Website
|
Twitter